What Happens At PFLAG Support Meetings?
PFLAG support meetings are where we do our best and most important work, and where we see real magic occur in the lives of countless individuals and families. Our welcoming support meetings provide a safe, confidential place for those who are learning to deal with the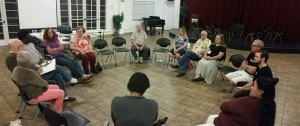 reality of homosexuality or gender-identity/expression issues in their family or circle of friends.. At our support meetings, we provide loving, non-judgmental support for our children, family members, friends, and each other. We welcome, as well, our gay, lesbian, bisexual and
transgender children (whether those LGBT+ children are age 10 or 50), family, and friends at meetings.
We offer multiple support meetings each month at different locations throughout the Phoenix area. Our "main" support meeting is held at our central Valley location in Phoenix. That meeting always starts with a short informative program which is usually presented by a guest speaker. After the program, we divide into small sharing groups, each with a PFLAG facilitator. Our other Valley support meetings include only a general sharing group and usually do not include a formal program/guest speaker (unless specifically announced on our calendar).
In our small sharing groups, gentle discussion takes place in a safe, informal atmosphere of confidentiality and trust. We each are given the opportunity to share our questions and concerns, as well as our successes and joys, or we may just sit and listen — it is perfectly acceptable to not speak (although we strongly encourage you, if you can, to share what is on your heart so that we may begin the healing process with you). We are not there to judge — people who just starting this journey can say some unpleasant things, and we are there to listen and to support and educate. We ask everyone in attendance to show respect to everyone else. We all listen and learn from one another. Parents in attendance learn from the shared experiences from other parents, as well as the shared experience of other gay, lesbian, bisexual, transgender and questioning (LGBTQ+) individuals who are present. LGBTQ+ individuals learn from the shared experiences of other LGBTQ+ individuals, as well as from the shared experiences of parents, family members, and friends who are present. As always, our straight allies are also welcome at our meetings. During our support meetings, there is often laughter, there are sometimes tears, and afterwards, there are usually many hugs shared between old friends and new ones. Over time, some who continue to attend develop long-lasting friendships with other attendees. We invite you to come and share the magic that is PFLAG!