Welcome to the Native American-Focused Support Meeting
Please check their website for location, dates, time & other pertinent details.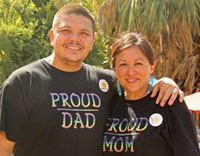 Facilitators:   Richard and Sheila Lopez-Aguirre, who both happen to be half-Native American and half-Hispanic, first came to PFLAG Phoenix in  2009 as "newbie" parents of three children, including one daughter, who is lesbian, and one son, who is gay. Both "came out" to   their parents on the same day!  While initially shocked by this news, Sheila and Richard quickly regained their footing, and they quickly immersed themselves into learning everything they could about the LGBT+ community.  They work tirelessly to give support and promote education anywhere and everywhere they can.
CONFIDENTIALITY is REQUIRED from ALL ATTENDEES
Every attendee attending our support meetings MUST adhere to our confidentiality requirement.  Nothing said at a support meeting and no one seen at a support meeting can be shared with anyone else outside of the support meeting.  This means no talking with friends, family members, co-workers, etc. outside the support meeting, and no sharing of information on the Internet including social media sites such as Facebook, Twitter, etc.  If anyone becomes aware of anyone else not following this confidentiality requirement, please report it to a PFLAG Phoenix Board member or any of our support group facilitators for further actions.