Ever see someone enter a PFLAG meeting and you know instantly they are a first-timer, but you don't know how to approach them? Some support groups have official "Greeters", but actually, we ALL should consider ourselves "Greeters". I think we can all remember when we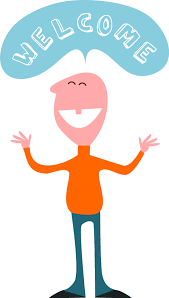 were that person who was entering the support group for the first time. We can remember that fear of not knowing anyone, or not being sure we even wanted to be there, or how we felt about baring our souls to strangers, or the doubts we had about whether even being there was going to help or not.
Just having one person come up to us and say "Welcome to PFLAG" means so much and begins the process of melting away many of those fears. And if that "Greeter" takes their welcome to the next level and says, "Let me show you our library table. If you'd like to check out a book or a video to take home, you don't have to be a paying member to do so. Just bring it back the next time you return",  or "Here is a name tag, if you'd put it on, it makes it easier for us all", or "Do you have someone close to you who is LGBTQ?" You could ask if it is their first time at a meeting, and if they say "Yes this is my first meeting", you can respond by reminding them that everyone at the meeting has also had that first meeting too. You can also reassure that person that everyone is friendly and knows what they are going through because just about everyone there at the meeting "has been there too". It is also important that we assure our new attendee that PFLAG meetings are totally confidential and free of judgment. And this is usually when you start to see some relief appear in their eyes. The bottom line is we all like it when someone comes up to us, introduces themselves, and directly addresses our fears. There is nothing worse than feeling alone, isolated, or ignored. We all need to feel like someone cares about us and understands what we are going through. No one wants to feel like they've just walked into a big "CLIQUE".
Eventually, after getting to know more people at the meetings, you'll realize that you have some great "Greeter" tools at your disposal to help that new person. For instance, you can introduce that new person to someone at the meeting whose family situation is similar to theirs. If the new person says, "We just found out our daughter is transgender" you can introduce that parent to another parent in the group who also has a trans child and tell them no matter how the groups are split up later, to just go with that parent so they can do some sharing together. This will give this parent the opportunity to see things through the perspective of someone who is in the same situation but possibly at a different point in their journey. It also gives our new person the perfect opportunity to learn some great ideas that they might not have otherwise thought of. And with just that simple introduction, you have created a valuable bridge that was not there before.
We realize that not all people are natural-born greeters, so don't feel bad if you are one of them, but even a simple smile and introduction can bring great comfort to that first-timer while requiring little to no effort on your part. And the pay-off is huge. You've not only helped make someone feel more comfortable and welcome, but you've stepped out of your own personal comfort zone to do it. People need to feel welcome and it is amazing what a small gesture like that can accomplish. Greeting and getting to know, really KNOW, the new people at our meetings is the most important thing we can possibly do at PFLAG. Remember, we are all in this together.