Wherever you are on your journey, know it's okay. It can be a process, but know we are here for you.
We are here to Support, Educate, and Advocate:
Support:   Providing support is our primary mission and the one that receives most of our energy. We provide support directly to you via our website, our confidential telephone helpline and email correspondence, and at our local support meetings. All services are provided by committed and caring volunteers who have previously experienced and worked through the feelings and issues you may be experiencing now.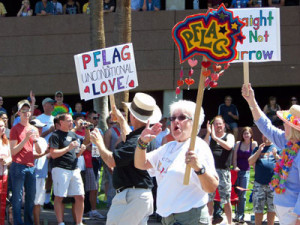 After all, we've all "been there" before, so we all know the importance of being there to lend support to those who are just starting this amazing journey. Likewise, we all know the importance of maintaining confidentiality, and therefore we stress confidentiality at every point in the process.
Educate:   Providing education to individuals, families and our community is the key to reshaping attitudes, challenging myths and misinformation, and changing our world for the better.  To help you gain understanding, we offer educational articles, discussions, links to relevant news stories, and more on our website.
Advocate:   We advocate for EQUAL civil rights for our lesbian, gay, bisexual and transgender (LGBT+) loved ones. This is a key component of our PFLAG mission. We must all continue to educate and advocate within our local community, outwardly to the rest of our state, and with our local, state, and federal representatives about the issues which adversely impact our (LGBT+) loved ones. We must do so to help create a society that goes beyond mere tolerance and acceptance to a nation where the God-given diversity that exists among us all is recognized, embraced, and celebrated. Unfortunately, there is much work left to be accomplished in this area. You can most certainly help us in these efforts — and you don't even have to be a PFLAG member to do so